Do you dream of escaping the frenzy of everyday life and embracing a tranquil vacation right in your own backyard? With the addition of a Bali Hut, you can have that perfect retreat in no time. Refreshing yet stylish solutions to sprucing up your outdoor living area are now within reach with an exotic Bali Hut. Picture yourself sipping pineapple juice while soaking up some sun at your paradise destination without even leaving home! Add beauty and comfort to your property today with a high-quality Balinese-style structure for endless hours spent outdoors surrounded by peace, nature, loved ones and fresh air.
Overview of Bali Huts and why they're perfect for backyard relaxation
If you're looking for a backyard oasis to escape the hustle and bustle of daily life, Bali Huts may be the perfect solution. Designed to resemble traditional Balinese huts, these structures offer a unique and exotic ambiance to any outdoor space. Georgia Wiseman Bali Huts in particular are crafted from high-quality materials to ensure longevity and durability. Imagine lounging in the shade of a thatched roof, surrounded by lush greenery and the sounds of nature. It's not hard to see why Bali Huts have become a popular choice for relaxation and recharging. Whether you're enjoying a refreshing drink with friends or taking a solitary break, a Bali Hut creates the perfect atmosphere to unwind. So why not bring a taste of Bali to your own backyard and create your own personal paradise?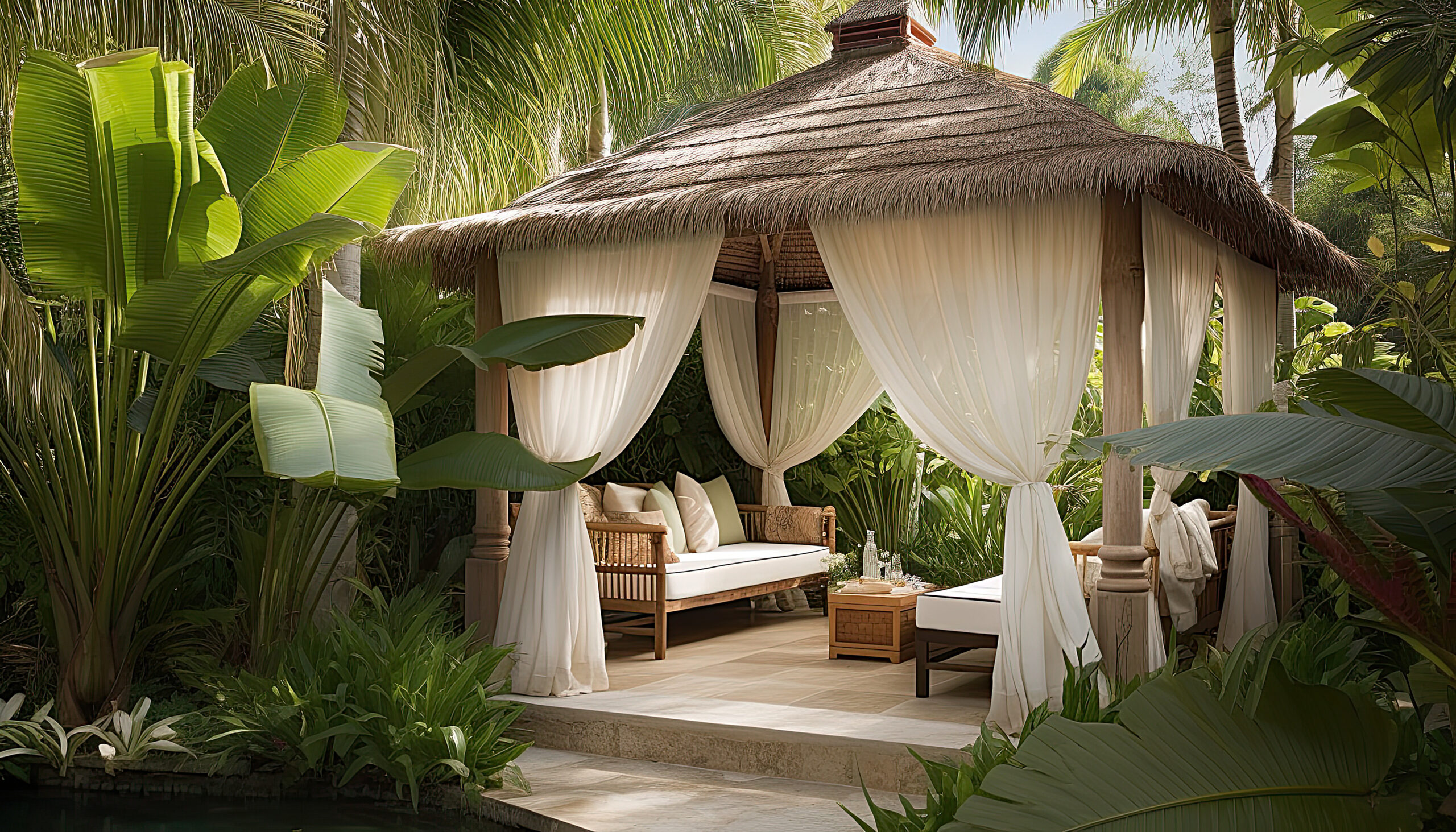 How to create a serene outdoor atmosphere with the right landscaping and furniture
Creating a serene outdoor atmosphere requires the perfect combination of landscaping and furniture. Start by considering the natural features of your space and how you can enhance them with shrubs, trees, and flowers. Adding a water feature such as a fountain or pond can also create a calming ambiance. When selecting your outdoor furniture, opt for comfortable pieces that blend with the surrounding environment. Soft, muted colours and natural materials such as wood and wicker create a tranquil setting. Incorporating additional elements like outdoor lighting and cosy seating arrangements can also contribute to a relaxing outdoor oasis. With a little planning and attention to detail, you can create an outdoor space that soothes the mind and soul.
Tips for optimally utilising Georgia Wiseman's installation process
Georgia Wiseman's installation process is an innovative and efficient way to improve the functionality of your system. To get the most out of this process, there are a few tips you should keep in mind. First, make sure you have all the necessary software and hardware before beginning the installation. This will save you time and frustration down the line. Additionally, take the time to thoroughly read and understand the instructions provided by Georgia Wiseman. This will ensure you properly follow each step and avoid potential errors. Lastly, don't be afraid to ask for help if needed. Georgia Wiseman's team is available to answer any questions or concerns you may have. By optimally utilising Georgia Wiseman's installation process, you can increase productivity, enhance security, and improve overall performance.
Steps to creating the perfect Bali Hut setup that reflects your style and personality
Creating the perfect Bali Hut setup can seem like a daunting task, but it doesn't have to be. With a few simple steps, you can create a space that not only looks amazing but also reflects your unique style and personality. Start by choosing a theme for your space, whether it's bohemian or modern. Once you have a theme, you can start selecting the furniture and décor that best represent your style. Don't be afraid to mix and match colours and textures to create a unique look. Next, focus on lighting and add ambient lighting to create a warm and inviting atmosphere. Finally, add personal touches such as artwork, plants, and photos to truly make your Bali Hut a reflection of your individuality. With these simple steps, you can create a Bali Hut setup that you'll love to spend time in, and that perfectly represents who you are.
Benefits of adding such an outdoor space in your backyard, such as increasing your home value
A backyard is not just an outdoor area, it's an extension of your home. Imagine having a personal oasis just a few steps away from your living room! Having an outdoor space in your backyard can increase your home's value by providing an additional living area for relaxation and entertainment. From hosting barbecues to enjoying a morning cup of coffee, adding an outdoor space in your backyard can become a favorite spot for your family and friends. Moreover, you can customise it to fit your lifestyle and design preferences. Whether you choose a patio, deck, or a fancy greenhouse, it can become the perfect retreat for any occasion. With endless options and benefits, creating an outdoor space is truly a valuable investment.
Different ways to style and decorate your Bali Hut to make it unique and special
Transforming your Bali hut into a cosy and unique space is simpler than you may think. With endless possibilities, you can style and decorate your hut to reflect your personal taste and style. Start by choosing a color scheme that you love and experimenting with different textures and fabrics, such as adding a plush rug or colorful cushions. Incorporating greenery like plants or creating a personalised feature wall can add character and make your hut feel like an extension of your personality. Adding outdoor lighting, lanterns or fairy lights will give your space a cosy and enchanting ambiance. With the right styling and decoration, your Bali hut can become a space that is both functional and inspiring for you to relax and enjoy.
In conclusion, a Bali Hut is the perfect backyard accessory and an ideal spot to make memories with family and friends. Georgia Wiseman has made it easy to install your own dream space without having to hire a professional, and we gave you all of the instructions you need to get started. A well thought out landscape with the right furniture can create an atmosphere that truly reflects your style and personality, so be sure to do your research before you start creating. Moreover, don't forget to keep in mind how beneficial adding a Bali Hut is for both yourself and your home value. With all this in mind, you'll be able to create a captivating oasis which will bring relaxation and joy for years to come!